Hayya 'alas Salah is …
It is Muslim's prayer times (waktu solat) notification app, design optimized for Android TV. The app is free & available all over the world.
Now, you can easily check prayer time at home!
The app interacts to you mainly in 3 ways:
Main Application page.
Notification card appearing on Recommendation raw.
Alert sound and pop-up text to let you know when prayer time comes.
1. Main application page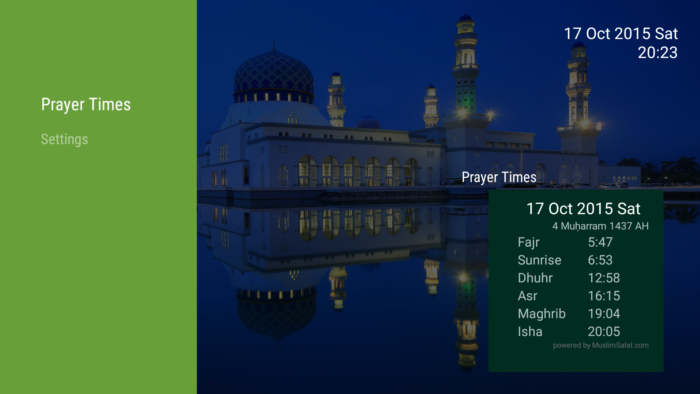 You can check today's prayer times on the main application page.
2. Notification card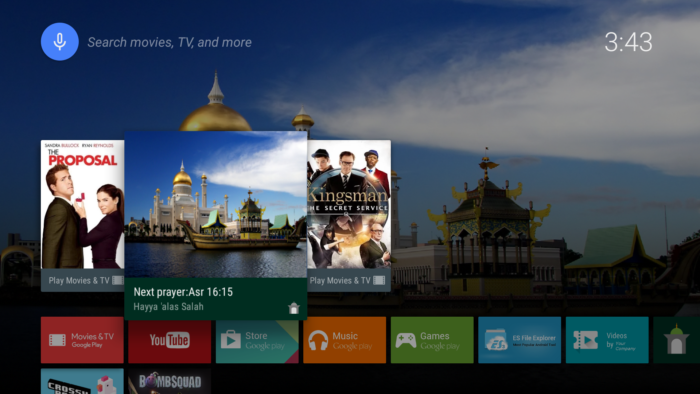 On the home screen page (Leanback Launcher page), it will notify next prayer time so that you don't miss time!
3. Alert sound and pop-up text
Sound and pop-up text notifies you prayer times
The app will alert sound to notify you when
It is 10 min before prayer times
Exact prayer time comes 
Settings
Currently the app support following setting configuration.
Location: You can set specific address name to get latitude, longitude which can be used to accurately calculate prayer times of your place.
Notification: You can enable/disable which timing to alert for each prayer times.
Calculation method: The app is using MuslimSalat.com API to obtain prayer times. It supports several calculation method, and you can choose it.
After change setting, it will automatically try to get updated prayer times information.
Features list
Accurate Prayer times based on your location/adress (latitude, longitude) provideded by MuslimSalat.com
Salat time for Fajr, Shrooq (Sunrise), Dhuhr, Asr, Maghrib, Isha.
Reminder card will appear on Leanback Launcher Home Recommendation row to let you know next prayer time.
When prayer time comes, it notifies you by sound.
Beautiful mosque/masjid pictures in background changes by time.
Showing both Gregorian calendar & Hijri (Islamic) calendar.
Supported calculation method:

Egyptian General Authority of Survey
University Of Islamic Sciences, Karachi (Shafi)
University Of Islamic Sciences, Karachi (Hanafi)
Islamic Circle of North America
Muslim World League
Umm Al-Qura
Fixed Isha

Supported language: English, 日本語
Release plan
Below are additional feature plan to be added on this app (But it is not guaranteed).
Additional language support: Arabic, Malay.
Allow users to check any date of prayer times (Currently it supports only one week).
Including sound selection, especially azan.
etc…
Download, Share, Rate

The application is avalable here: Download on Google Play Store
I'm happy if you like! or share on Facebook, Twitter, or other SNS 
Also, please do not forget to rate the app if you like it! 🙂